Up to 30% of most processed fish food is just water and Ash (low-quality filler) LEGIT. Fish Food pellets are specially made to keep these factors as low as possible, meaning you can feed less while keeping healthier, more colorful fish!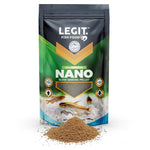 Perfect For Tiny Fish

Extra small 0.45 mm pellets are small enough for all your nano fish. CPD's, Chili Rasboras and even fry can fit these tiny pellets in their mouth!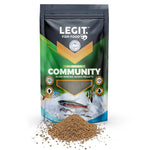 Feed All Your Fish With One Pinch

Mixed pellets varying from 0.75 to 1.2mm allows for one feeding for most community tanks. Tetras, Guppies, etc. take advantage of the smaller pellets, while Angels, Rainbowfish, etc. grab the big stuff!
Sustainable from a ➡️ z
LEGIT. is derived from a nutrient rich invasive shrimp species ➡️ It's removal helps stabilize a Canadian lake ecosystem.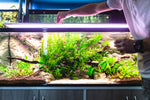 A premium fish food Pellet
LEGIT. Fish Food is one of a kind! No other brand comes close to the nutrient density or quality we provide in our pellets. Try some today and see the diference in your fish!
See why it's:
Not Your AVERAGE Fish Food... 😎
Supporting The Aquarium Hobby
1 Bag = 1 Donation
We give back to this amazing hobby by supporting the individuals who make it possible! Learn more about Project Piaba and how they support the sustainable harvest of native fish species you know and love.